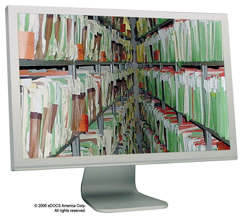 Through Document Imaging Technology,you can eliminate storage space and costs, display files instantly and back them up, plus enhance your productivity.
For more than 20 years, the staff at eDOCS America has been providing superior technology services across the nation. Our staff listens to the needs and goals of many types of organizations and provides efficient and cost-effective solutions to meet those goals. We provide the highest quality electronic document and data entry services, in our offices or onsite in (or near) yours.
eDOCS America can create any type of images you need, including full-text searchable, and can provide the images and data to you in a variety of ways. Our output can be published to a drive or you can easily download from our server. Then you can store and search the images as they are, or import them into your system. We can even handle uploading images, text and data to your website.
In addition, we can help your organization select the correct imaging or image-enabled business system. Our staff is knowledgeable of many types of systems and can perform needs analysis studies for your organization, create budgets and Return on Investment (ROI) reports, create Request for Proposals (RFP), and oversee the RFP process. eDOCS America can be your trusted partner during your system selection process.
"eDOCS America has done a wonderful job for us.
Their process is very flexible and incredibly efficient."
L.C., Practice Manager
Highest quality document conversion, scanning and data entry services
Files, drawings, film/fiche conversion
Full-text searchable images
Accurate data entry and indexing
Needs analysis, ROI reports and budgets
System selection, RFP, design and implementation management
Services provided in our offices or yours
Documents with great imaging and scanning ROI benefits include health, human resources, accounts payable, accounts receivable, sales, shipping, tax, accounting, legal, banking, large drawings and more.
Government – Municipal, County, State, Federal

Clerks — Searchable agendas, minutes, resolutions, ordinances
Building Insp/Public Works/Engineering/Planning/Water — Permit files, as-built plans and development drawings linked to GIS system or stand-alone
Police/Sheriff — Arrest/incident reports and jail records
Register of Deeds — Property and vital records
Finance/Human Services/Aging/Legal — All documents
Accounting

Client files as archives
Current work papers for workflow
Internal administrative documents
Legal

Client files as archives
Current matters for workflow
Internal administrative documents
Cemetery

Burial cards/permits and lot/owner cards
Deeds and customer/family files
Maps, books and documents


Healthcare – Medical, Dental, Hospitals

Prep, scan, index and quality control patient charts
Prep, scan and capture EOB transaction data
Provide images and data for your EMR/EHR/Dental system/Billing system or as a stand-alone system
Financial

Account signature cards
Loan, collateral and title documents
Internal administrative documents
Manufacturers

Shop drawings linked to manufacturing system or stand-alone
Accounting, AP, AR, receiving, purchasing documents
Your Imaging, Conversion and Data Entry Experts!